Company profile


Aoki Co,.Ltd,think,"If we catch the pinch,we can win".
Opportunity comes when the environment changes rapidly.If you have the courage to act on your own. The world will change dramatically.
Aoki Co,.Ltd,will challenge this environment with "action ability","execttion ability and "courage and dialogue ability".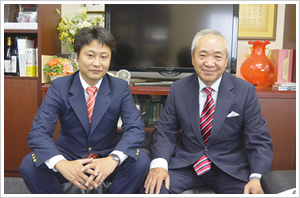 AOKI Co.,Ltd aims to realize a corporate culture in which eachi person who works can take pride in himself,while enjoying the work,will continue to build a company that continues to challenge the rapidly changing environment.
Based on manufacturing that has been alive since our foundinng. We will works together to create a work enviroment where we can fully demonstrate the power of a united organization and we will contribute to the local community as a company worthwhile in society.

Company name
Aoki co.,Ltd
Address Head quarter
〒577-0065
5-7-3 Takaidanaka ,Higashiosaka-shi,Osaka 577-0065
TEL 06-6781-5141
FAX 06-6781-3921
The establishment date
June 10,1961
Capital
10 million yen
Chair man
Toyohiko Aoki
Ceo
Osamu Aoki
Managing director
Miyako Aoki
Business outline
Machine design and manufacture, Aircraft parts,Precision parts processing
(Aluminum,Titanium dioxide,Stainless,FRPcomposite)
Main related items
Space related,Aircraft related ,Agricultual related,Medical related R&D related
Business financial institution
The Osaka City Shinkin Bank Shoko Chukin Bank MUFG Bank Japan Finance coporation Sumitomo Mitsui Banking
Main business partners
JAXA Airbus Japan Osaka University, Otsuka Pharceutical Factory, ATR,Shinmaywa indusutrial co, Sumitomo Precision Products co.,Ltd, DAIKIN INDUSTRIES,Ltd., MITSUBISHI Heavy Industries, SHARP CO,Ltd

■ Design and Manufacture
Design of aircraft ground support eqipment.production equipment (including system) Parts design ,production and sales of manufacturing equipment
Design manufacture and sales of equipment that realizes the idea of improving the work and quality of customers'production lines.
■ Part processing
● Aircraft part (metal)
Mainly aircraft bodyparts,mass production processing of high-mix small-lot production ,trial production separately.
● Aircraft part(composite)
processing and bonding of panels used in aircraft wing cylinder fairings and doors. processing of carbonfiber attracting attention as space-related next-generation materials such as Shinkansen,F-1 and artificial satellites.

Please see the equipment list
⇒equipment list


■ Boeing factory January 1997 certified
■ Nad cap May 2007 accreditation

Nadcap ( international special process certification system ) is a quality assurance and special process audit and certification program that was developed by an organization that Boeing, Airbus, Rolls-Royce, GE and other aircraft manufacturers and engin manufacturers patcipate as memmbers and maneges and started operation in 1990.

It is the only unified certification program in the world,and this certification is a prerequisite for engaging in manufacturing includinng special processes of aerospace product.

■ JIS Q9100 March 2010 certified

1961
Tadao Aoki fouded AOKI IRON in Katae-cho Osaka, and started trading with KansaiBs' "Processing of Bridgestone tires"
1970
Along with the expansin of demand,new facilities will be added and the factory will be relocated to Kusune 2-6-28 Higashi-Osaka ,Osaka..
1979
Change company name from personal manegement to AOKI TEKKO co.,Ltd
1990
Received orders for mass production of MD-11Jet airliner and started production.
1995
The company is renamed AOKI co.,Ltd .and moved to the current head office factory, and Toyohiko Aoki takes office as the second generation president.
1997
Get Boeing Certified
2002
Higashi-Osaka Space Related Development Research Association was established ,and Toyohiko Aoki will be appointed as chirman.
2005
Start trading with JAXA
2006
Received orders for prototypes and mass production machine parts(metal parts and composite material processing parts) of jet airliner B787 and started production
2007
Obtains Nadcap certification from the aircraft industry special process certification organization(PRI)
2009
Miyazaki plant "MAIDO Technology Center ?established.
2010
Started development of unmanned airplane (joint research and development with JAXA)
2012
Unmanned airplane completed , To practical use.
2013
Osamu Aoki will be the president of the third generation and Toyohiko Aoki will be the chairman.
Established a Medical Consortium with OSAKA CITY UNIVERSITY.
2014
Appeard on NHK program "Transcendence! SugoWaza?, challenge Guiness World Record.
2015
5-axis machining center introduced by DMG MORI
2016
Exhibiting unmanned aircraft at The Defense Equipment Agency booth in the international aerospace exhibition.
2017
Accept inspection visits from United States ,China ,Korea,Africa,Finland and Thailand.
2018
Received orders for new equipment from Otsuka Phamacetical Factory ,Ltd